On Tuesday (August 8, 2017), a 7.0 magnitude earthquake struck a remote, mountainous part of Sichuan (China), killing at least 19 and injuring 247 (40 of which are in serious condition). However, after reviewing data, China's national commission for disaster reduction has estimated that as many as 100 people may have died.
The jolt lasted 20 seconds.
This slideshow requires JavaScript.
Before and After the earthquake.
The earthquake was less deadly than originally feared – while 19 people were killed, 45,000 tourists have been evacuated from the zone to safety, with only 1,000 more waiting to leave. Almost 400 fire trucks and more than 1,100 firefighters have been dispatched to the scene, bringing with them 55 life detectors, 30 rescue dogs, and 24 generators. Electricity has largely been restored.
The quake was felt in the provincial capital, Chengdu, and as far away as Xian, home of the terracotta warriors. The nearby province Gansu saw eight people die in landslides caused by heavy rain, and 24 others in a different, mountainous region of Sichuan.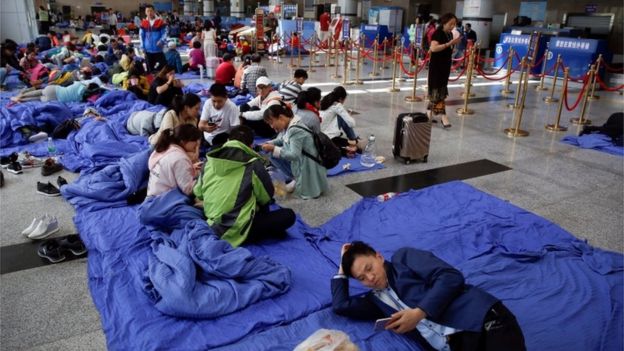 Earthquakes frequently shake Sichuan. A disastrous, 8.0-magnitude struck the Chinese province in 2008, killing almost 70,000 people. While the death toll this time has been far lower, the earthquake has reopened some wounds and memories from the previous quake. "Tour guide He Min – who watched the magnitude 7.9 quake swallow up a parking lot in Yingxiu nine years ago – described prying open a lift door with her hands on Tuesday after the power went out at her hotel in Jiuzhaigou", the SCMP reports. 
"I couldn't believe I was experiencing another earthquake," she told Shanghai-based news outlet Thepaper.cn.
As they did in 2008, Hong Kong and Taiwan both offered help during the aftermath of the earthquake.
After the massive number of deaths in 2008, the Chinese government has then stepped up in ensuring the safety of building infrastructures and has strengthened earthquake relief systems, meaning that many deaths have already been prevented. In fact, rescue forces were reported to be in a much better state of readiness.
This was not the only earthquake that struck China in the past day. On Wednesday morning, a magnitude-6.6 earthquake struck Xinjiang, near to the border to Kazakhstan, with 36 injuries.
My take on this event:
I remember experiencing the tremors of the 6.4 magnitude earthquake in Taiwan, physically feeling and seeing the building teeter back and forth. I can only imagine what these people felt.
(There is disagreement over the size of the earthquake – while the US Geological Survey reports a 6.5-magnitude quake, the China Earthquake Networks Center cites a 7.0-magnitude earthquake.)